With Bluebeam Revu 20, you can easily and securely communicate and collaborate with your project partners from the start to maximise your overall project efficiency – now with improved user and content management capabilities and new enhancements to our powerful Markup tools.
From kickoff to handoff, in the office or in the field, Revu is there.
Design reviews go faster when teams can mark up the same digital documents in real time.
Markup and collaboration tools allow for faster, more accurate quality reviews.
Custom measurement tools help capture a project's true scope for a stronger bid.
Revu simplifies submittals with powerful markup and editing tools.
Revu keeps RFIs clear and organised with smart markup, hyperlinking tools.
Revu helps project teams achieve a 90% completion rate on first back check.
Smart digital O&Ms give facilities managers easy access to critical project information.
Stay Organised and Standardise
Store your tool sets and display settings in a custom profile. Turn scanned drawings into text-searchable PDFs and use batch tools to alleviate repetitive tasks.
Customisable markup tools simplify communication across teams, and for added accountability the powerful Markups List within Revu tracks annotations and generates reports.
Keep Everyone on the Same Page
Centralise entire projects in the cloud, mark up documents with team members in real time (or anytime), then view the latest drawings on any device, anywhere.
Take quick, precise measurements with custom measurement tools that help capture a project's true scope for a stronger bid.
Get phone and email support, free version upgrades and exclusive features when you add one year of Maintenance to your purchase.
The newest version of Bluebeam Revu has arrived, with even more smart tools and enhancements to help your team get more done, together.
With Revu 20, Bluebeam added a new Studio server instance in Australia, allowing clients to host Studio Sessions and store project data within Australian borders, meeting local data sovereignty requirements. Access is available immediately and is automatic for all users in the region using Revu 20 or Revu 2019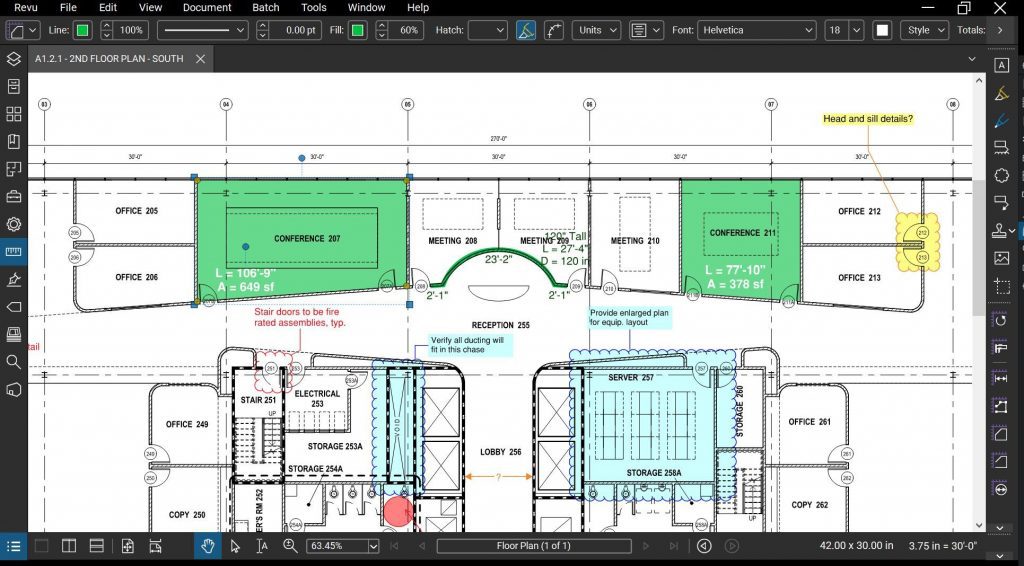 Simplify tasks from start to finish.
Stop juggling platforms. Revu offers a wealth of powerful tools and plugins to help simplify tasks from kickoff to handoff.
Build better bids
Intuitive measurement tools improve takeoff speed and accuracy
Keep documents organised
Smart markup, hyperlinking and automation tools keep RFIs, submittals, and punch list items clear and organised
Finish projects on time, every time.
Revu gives you a centralised place to create, annotate and share documents, so projects always stay on track and teams are aligned every step of the way.
Manage projects in the cloud
Store and manage entire projects in the cloud using Studio® Projects and invite teammates from anywhere to edit
Improve QA/QC speed and accuracy
Automatically track edits in the Markups List and easily communicate changes for faster, more accurate quality reviews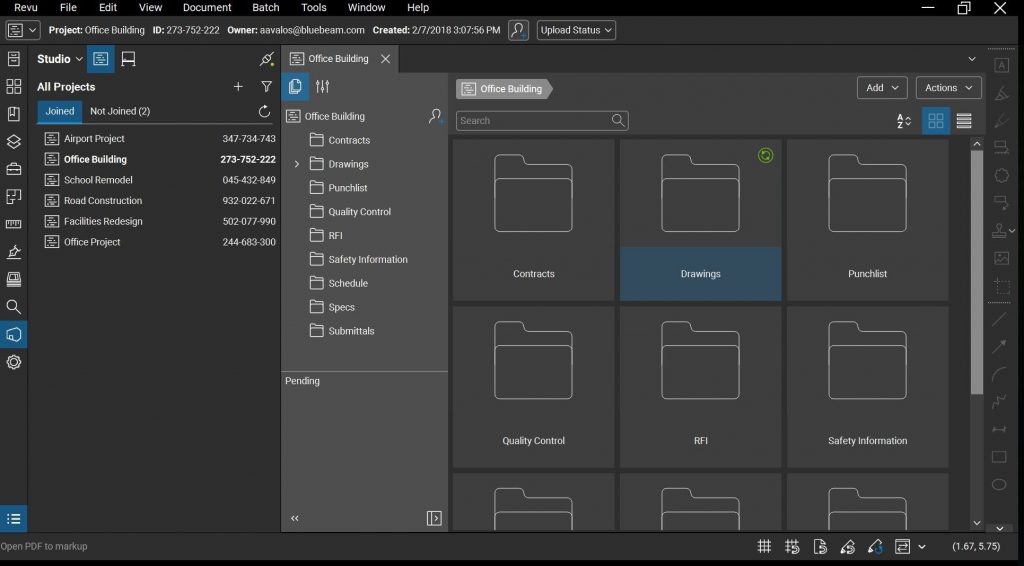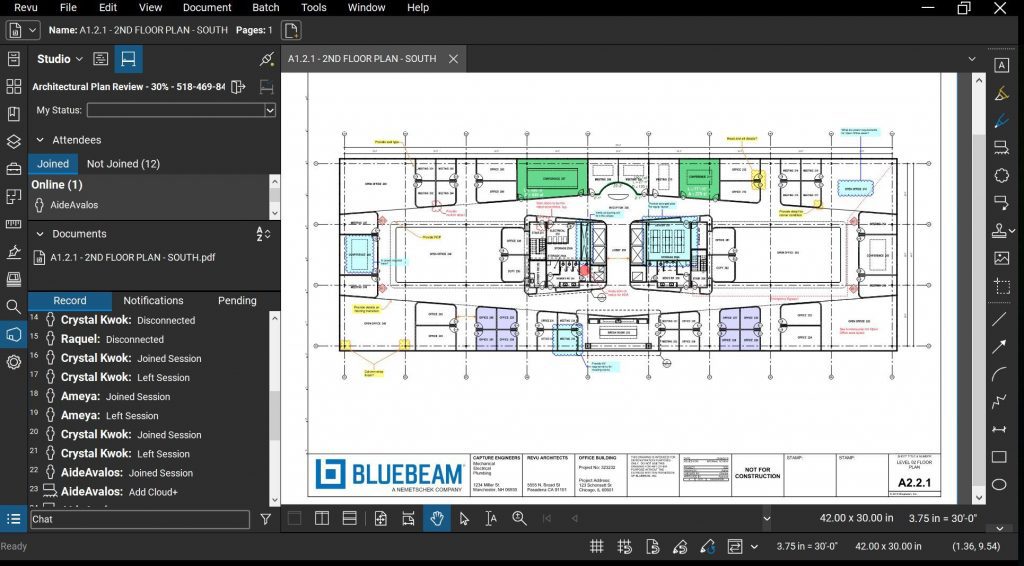 Connected teams are efficient teams. Studio in Bluebeam® Revu® allows you to easily invite team members from anywhere in the world to collaborate in real time and finish projects faster. 
Keep track of who said what
Mark up at the same time together and automatically track all edits
Speed up design reviews
Live activity feed helps improve communication across teams
Bluebeam Revu comes in three editions: Standard, CAD and eXtreme.
The essential solution for intuitive PDF markup, editing and collaboration.
2D and 3D PDF Markup: Redline PDFs with customisable markups.
Markups List: Track all annotation data in a simple and customisable list.
Tool Chest: Save and share custom tools based on your workflows.
Sets: View and navigate an unlimited number of various source files as a single document, in a single tab.
Measurement Tools: Take faster and more accurate calculations from your PDFs.
Contractors, owners and estimators who require only the core features of Revu.
The solution designed specifically for CAD users that includes smart plugins for 2D and 3D PDF creation.
Includes all Revu Standard features
Plugins for 2D PDFs: Create PDFs from AutoCAD, Revit, SolidWorks, Navisworks Manage, Navisworks Simulate and SketchUp Pro.
Plugins for 3D PDFs: Create PDFs from Revit, Navisworks Manage, Navisworks Simulate, SketchUp Pro and any IFC file.
Batch Creation: Convert an unlimited number of files from CAD programs and apply stamps, cover sheets, headers, footers and more.
Design professionals, such as architects or engineers, who require the additional plugin functionality to complement their favorite CAD software.
The robust solution built for power users who want to automate complex processes and push the limits of document collaboration.
Includes all Revu Standard features
Includes all Revu CAD features
Automatic Form Creation: Automatically create PDF forms from scanned or digital documents.
Batch Link®: Automatically generate unlimited hyperlinks based on file name, page label or page region.
Batch Slip Sheet: Automatically match new revisions with their corresponding current sheets and carry over all markup data.
OCR: Transform scanned PDFs into text-searchable and selectable files.
Batch Sign & Seal: Quickly apply a digital signature or professional seal across a batch of multiple files.
Quantity Link: Seamlessly link measurement totals from multiple PDFs to Excel®.
Power users looking to automate complex processes, whether they're architects, engineers, contractors or estimators.
RECOMMENDED
Add Maintenance to get the most out of Revu
Purchase Maintenance with Revu 20 to get:
✓

 Premium phone and email support

✓

 The ability to upload to Bluebeam Drawings

✓

 Free version upgrades